Are you looking for magical moments for your Elopement Wedding or Vow Renewal, consisting of dreamy, picture-perfect backdrops? If so, you must consider these gems of the city. Not only are they the perfect spots to capture that New Orleans feel, but they won't break the bank, all locations have permit fees of $500 or less (valid for couple only elopements or up to 20 guests), and some are even free! Here are the best places to elope in New Orleans…
⛵ Just you two? Click here to see our favorite package which INCLUDES a sunset ceremony on a private sailboat ⛵
Keep in mind, even if some are tucked away, each location is in a public area so we can't control visitors or locals in the area. However, most people will stay out of the way if they see a wedding or vow renewal in progress :). Everyone in New Orleans loves a wedding!
The 6 Best Places to Elope in New Orleans
1. City Park – McDonough Tree or Butler Fountain
If you're looking for all the whimsy and beauty New Orleans has to offer, City Park is the perfect spot for you. As one of the oldest established parks in the country, City Park offers beauty and history you can see and feel.
The McDonough Tree is a popular spot. Dripping with historic Spanish Moss and limbs that stretch far into the space, the McDonough Tree is the perfect backdrop for your ceremony. Not only will your pictures capture the whimsy of New Orleans, but being surrounded by the chirping birds, gentle breezes, and all the beauty City Park has to offer will make you fall in love all over again.
Tucked into the twisting paths of City Park, Butler Fountain makes a beautiful setting for your intimate ceremony. Surrounded by Oak Trees and lush greenery, you will feel like royalty in your own personal garden. Private enough to not be disturbed, but with fantastic views of the park, Butler Fountain might be the perfect spot for sharing the love. Click HERE for information on obtaining a permit for an elopement at City Park.
2. Audubon Park – Tree of Life, Hyams Fountain, Gumbel Fountain
Audubon Park is another beautiful spot if you're looking for romance and whimsy. The Tree of Life offers a beautiful backdrop of limbs and light. Legend says that the tree was planted as a wedding gift to a bride many years ago, and the gift of love still stands strong today. You can't get much more romantic than a long history of love.
Nestled in a private area of Audubon Park, you will find Hyams Fountain. Like many other pieces in New Orleans, this fountain has a unique history. Sara Hyams donated her jewelry collection so that children would have a place to enjoy the summers. The Hyams Fountain is surrounded by lush gardens and cool breezes that sing the songs of New Orleans's history that you can feel.
Gumbel Fountain is another beautiful backdrop for water and nature. Sitting among well-kept gardens, the fountain will make you sigh with its beauty. It is every bit as magical as a movie. Click HERE for information on obtaining a permit for an elopement at Tree of Life.
3. Washington Park across from Jackson Square
If you're looking for the New Orleans city feel, look no further than Washington Park! This park overlooks Jackson Square and St. Louis Cathedral. An outdoor space dripping in history and beauty all in one, Washington Park boasts stunning views of Jackson Square that are picturesque and breathtaking. Get that picture perfect venue for your weekday elopement – not recommended Friday thru Sunday due to popular tourist photo spot!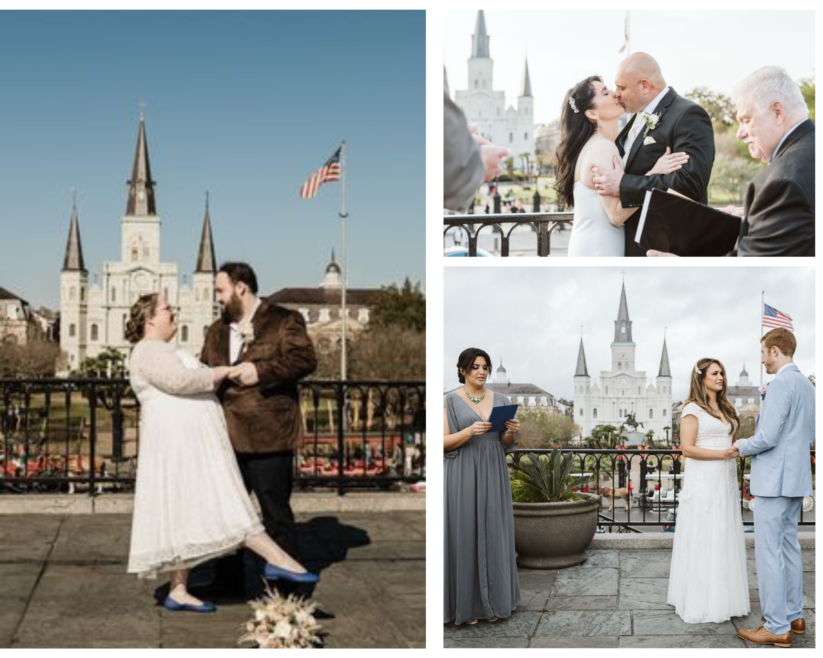 4. Exchange Alley
Your wedding day should be stress-free and easy. For the couple who wants gorgeous simplicity, but still wants that New Orleans charm, Exchange Alley is your perfect spot. What is more "New Orleans" than the French Quarter? How does intimacy sound in a city that is always full of life? Just moments away from the bustling noise of the most amazing city, your private ceremony awaits you. Feel the southern charm and comfort while the area is still full of life.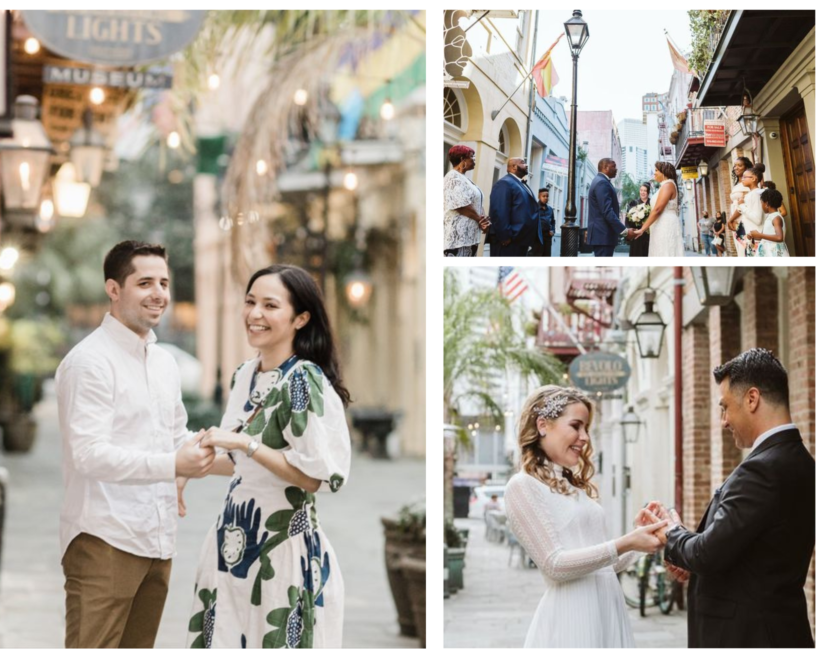 5. Pirates Alley
Charming parks aren't your style? No problem! New Orleans has something for everyone and Pirates Alley might just be perfect for you. This seemingly simple alleyway is anything but. As part of the Historic French Quarter, Pirates Alley puts you in the heart and soul of New Orleans, while still offering a spot for some privacy. The unique architecture as a backdrop mixed with the natural lighting provides a beautiful space for you. The atmosphere of Pirates Alley is a draw for many couples looking to tie the knot. Once there, you can see what all the fuss is about.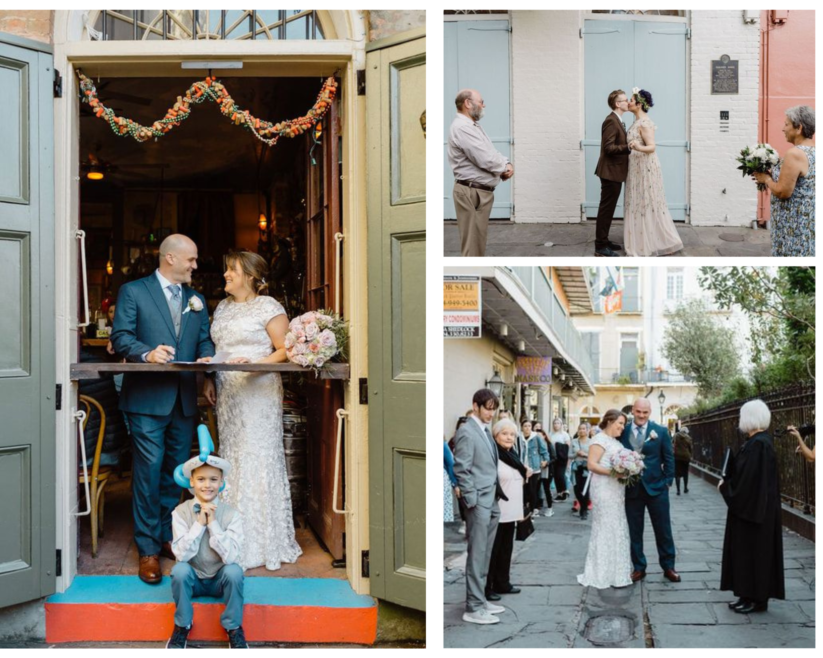 6. Armstrong Park
Just a quick walk away from the French Quarter and downtown New Orleans, the iconic arch of Armstrong Park welcomes visitors to experience all the different areas it has to offer. This 32-acre park, named after famous jazz musician Louis Armstrong, has enormous oak trees and is home to historic Congo Square. Armstrong Park comes to life in beautiful daytime ceremonies. Armstrong Park can fit every vibe, from the whimsy of oak trees to the industrial vibe of the arching bridge. Brick pathways will line your walk, giving you a traditional feeling of walking through Old Time New Orleans. Click HERE for information on obtaining a permit for an elopement at Armstrong Park.
⚜️ Ask us about Hotels and B&B's that offer their courtyards or parlours for a more private ceremony location ⚜️
Don't forget to check out our All-Inclusive Elopement Packages HERE!
Click HERE to learn the 5 secrets to a successful (and stress-free) elopement and BONUS checklist!