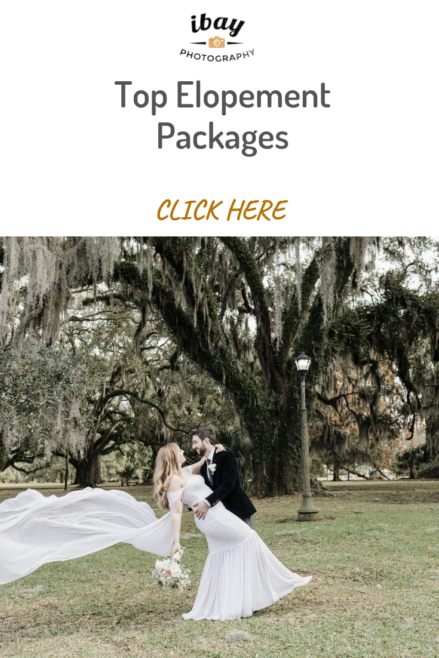 The elopement of your dreams doesn't have to break the bank. Quite the contrary, these trends prove that elopements are still one of the cheapest ways to get married… and we have the perfect elopement packages HERE to consider!
While you are here, we also wanted to give you ideas of new trends we are seeing everywhere. Every year more and more couples seem to be looking into "unconventional" ceremony formats, and getting eloped just fits. What's could be better than a romantic getaway that actually cuts expenses compared to a traditional wedding? That's music to every couple's ears.
Let's take a look at a few trends that you might want to incorporate into your ceremony:
First Looks are the Trend!
A few months ago we wrote about how First Look elopement photography was taking off. That trend has only risen as couples everywhere are learning about this new "tradition."
If you're not familiar, a First Look is a pre-ceremony activity that allows the couple to meet each other right before the ceremony takes place, to give them a more intimate time together before the actual ceremony starts.
This is perfect if you are having a medium to large sized elopement with friends and family, which gives the couple some space before having to present themselves to the crowd.
As an added bonus, a First Look is often like a private photo shoot. It is becoming customary to invite the photographer to this intimate meeting, so they can shoot an on-site pre-ceremony collection that often creates beautiful moments.
After all, the bride and groom are seeing each other on their special day for the first time and this creates electric photography. First Looks are even more popular in summer months and warmer climates like New Orleans, where couples have the liberty of staying outside for longer periods and can decide to have a fully outdoors shoot if they desire.
Less Formal, More Fun!
Eloping has taken off in part because it allows couples to do away with many of the old formalities and just get married where and when they want without a ton of hassle.
This trend is only increasing, as we're seeing more and more couples go the casual route when it comes to their ceremony. There's much more focus on having a good time and an authentic experience rather than spending a fortune on a particular item or place.
When there's less focus on the formalities, it allows couples to unwind and just enjoy themselves, and shouldn't that be what getting married is all about?
It's so important for couples to realize that if they are feeling pressure in wedding planning maybe it's time they look into getting eloped. It's a very different experience when you can just focus on your significant other and not have to plan for months on end just to "get everything right" and please 100 random relatives that insisted on coming.
Less formal also often means less money spent. Ditch the expensive trappings of typical wedding ceremonies and just let loose and enjoy yourself. Wear what you want, go where you want, and focus on romance!
Back to Nature!
What could be better than getting married under the boughs of romantic spanish moss under a 600yr old oak, in the middle of a picturesque park, or right on the riverfront with city skyline views?
Holding elopements and weddings in the outdoors is nothing new, but it's certainly a growing trend. What better way to save money and transform your ceremony into a special adventure than having the entire thing outdoors?
This is the perfect answer for couples looking to save a ton of money on things like hotel halls and chapels. Not to mention, a natural backdrop is the ultimate elopement set. You can choose exactly the kind of atmosphere you want to accentuate your big day, whether you want a more earthy event in the middle of the woods or want to go full blown mermaid by the sea.
That's the beauty of having an elopement, you don't have to worry about the logistics of planning for 100 or more people on a small patch of beach or in a particular corner of a park. The crowd size will be small, no parking snafus, and you don't have to somehow cater a feast in the woods.
And above all, most of the time it's free! Some parks in New Orleans charge a small event fee for hosting crowds at certain times of the day and after a certain size, but for the most part, if you seek out a particular area of nature that you want to transform into your perfect elopement backdrop, you're not going to be spending a ton of money. Congratulations to you both!
Don't forget to check out our TOP 3 elopement packages here!
Click HERE to learn the 5 secrets to a successful (and stress-free) elopement and BONUS checklist!