When it comes to celebrating love in a unique and memorable way, few places can compare to the magical city of New Orleans. Getting married in a beautiful location doesn't always have to be expensive. You're in luck if you've been hoping to have a romantic elopement in New Orleans without going over budget. The lively city's vibrant culture, historic allure, and captivating atmosphere make for the ideal setting for a reasonably priced celebration of your love. In this blog post, we'll discuss how to put together a lovely elopement wedding in the heart of New Orleans for less than $5,000.
Selecting a Reasonably Priced Location
New Orleans provides a variety of venues that won't break the bank. Explore picturesque neighborhoods with quaint courtyards or public parks like Audubon Park. By choosing an outdoor location, you can keep the costs of your wedding location down so that you can spend it on other memorable things. And, what else is more beautiful than getting married in nature's splendor. Click here for a list of our recommended locations
Consolidate as you personalize
Some couples choose to elope with the barest of essentials. If you do choose to incorporate some traditional elements, don't be afraid to get creative. To dress up the cake, request that the florist who makes your bouquet to add a few extra blooms. This is a low-cost way to dress up the dessert while still having it coordinate with your wedding flowers. Don't feel like you have to follow convention since eloping is by nature unconventional. Choose what is best for YOU!
A Taste of the Local Cuisine
It's essential to indulge in the flavors of New Orleans, which is a culinary paradise. Instead of a formal reception, choose a private dinner at a local Creole or Cajun restaurant. Numerous restaurants provide reasonable prix-fixe menus so you can enjoy the city's world-famous cuisine without going over your spending limit. Get in touch with us for our recommendations.
Get married during the week
Did you know that most vendors offer discounts for weddings held on a weekday? What a great way to keep costs down without compromising the experience. Plus, if you have your wedding on a Monday or a Tuesday, when many places see their fewest visitors, you're much more likely to have the venue to yourself. Just make sure to check online ahead of time to confirm that the place you're visiting is open on the day you intend to stop by.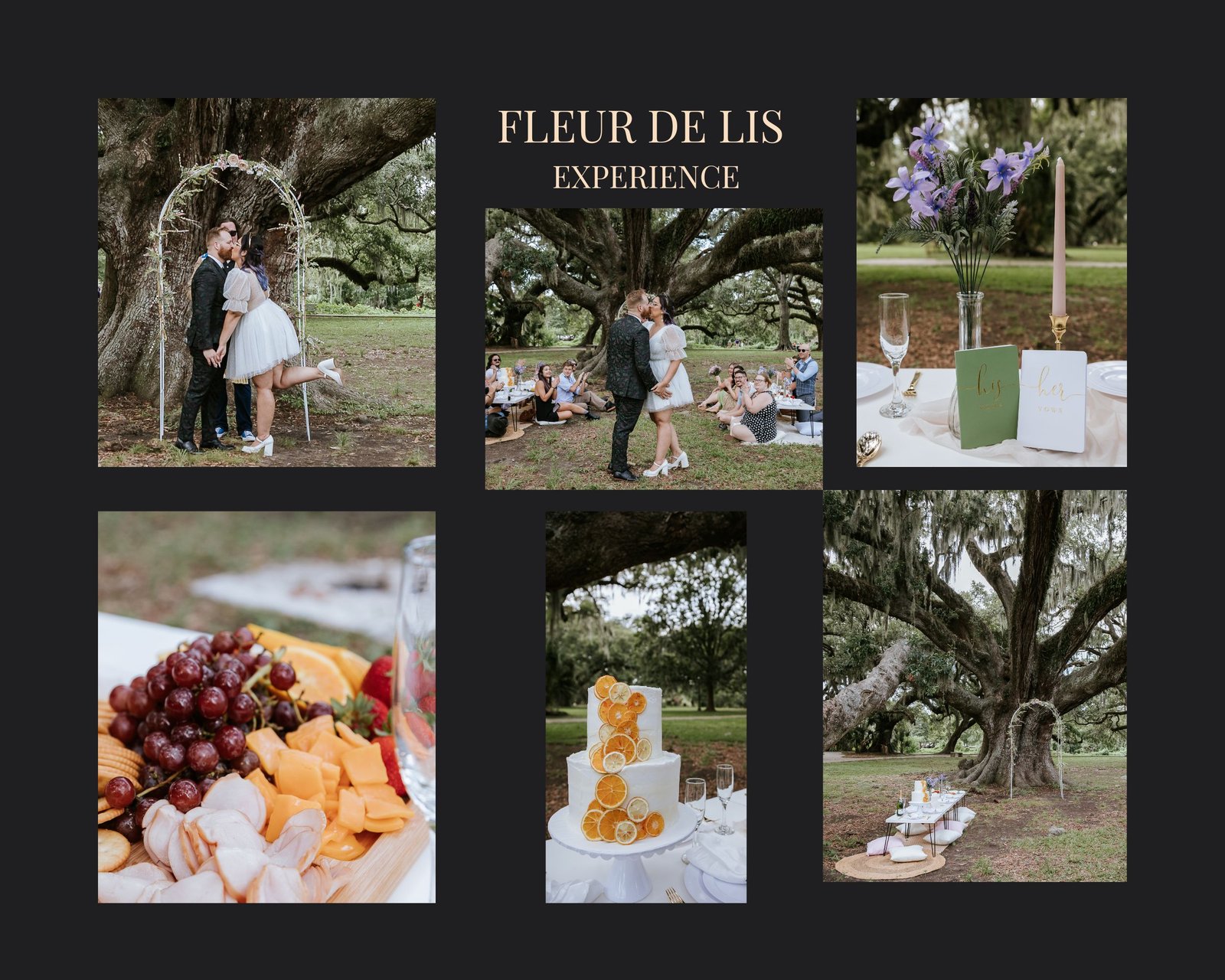 Have an intimate guest list
This one is simple if it's an old-fashioned elopement! Your future spouse and you alone. This can be more challenging for contemporary elopements with a larger guest list.
You can create a personal and meaningful experience while effectively managing costs if you only invite your closest relatives and friends. A smaller guest list enables you to select more budget-friendly locations, streamline catering choices, and concentrate on the factors that are most important to you and your partner. With this strategy, you can have a more intimate elopement and spend more time with the people who are important to you while also keeping costs down.
*** Check out our Custom Packages! Select a restaurant with a $50 per person post-celebratory brunch or dinner for 20 people… and you are still at $5000! ***
Eloping in New Orleans on a budget is possible and can result in a charming and unforgettable experience. You can create a romantic celebration that captures your love story for less than $5,000 with careful planning, considerate decisions, and an emphasis on what matters most. New Orleans offers the perfect setting for couples looking for a magical elopement on a budget, thanks to the city's historic charm, vibrant culture, and mouthwatering cuisine. As you say "I do," embrace the energy of the city and go on an unforgettable journey.

And Yes, an elopement should be exciting and unplanned, but you want to save money while still having a good time, right?

Work with an experienced local business like Ibay photography that has the knowledge to help you save money while still getting the most out of the experience and guarantee that you stay under $5000. Hiring an elopement photographer has many advantages. With the assistance of an elopement photographer, you will have someone take care of all the last-minute hassles and complications on your special day, allowing you to simply enjoy the occasion. We can guide you through all the details and make sure you do not forget anything.

Unlimited planning support, including access to the Ibay Photography team for assistance with ceremony location (*permit/rental fees may apply; not included in package pricing below – Click HERE for suggested ceremony locations), vendor recommendations, counsel, and a timeline. We are by your side at every turn!
Reach out to us for more details, and we'll work with you to make your dreams happen!!