Some couples desire a wedding experience that goes beyond tradition and embraces the extraordinary when they exchange vows. If you want an intimate ceremony that combines luxury, privacy, exclusivity, and a dash of adventure, why not elope on a boat. This might be the perfect option for you. Picture yourself with only your closest loved ones by your side, sailing through calm waters, amidst breathtaking vistas. In this post, we delve into the romantic world of eloping on a boat, a genuinely one-of-a-kind and unforgettable wedding experience.

A boat wedding is a fantastic option for couples looking for a private and unique wedding experience because it comes with a host of benefits.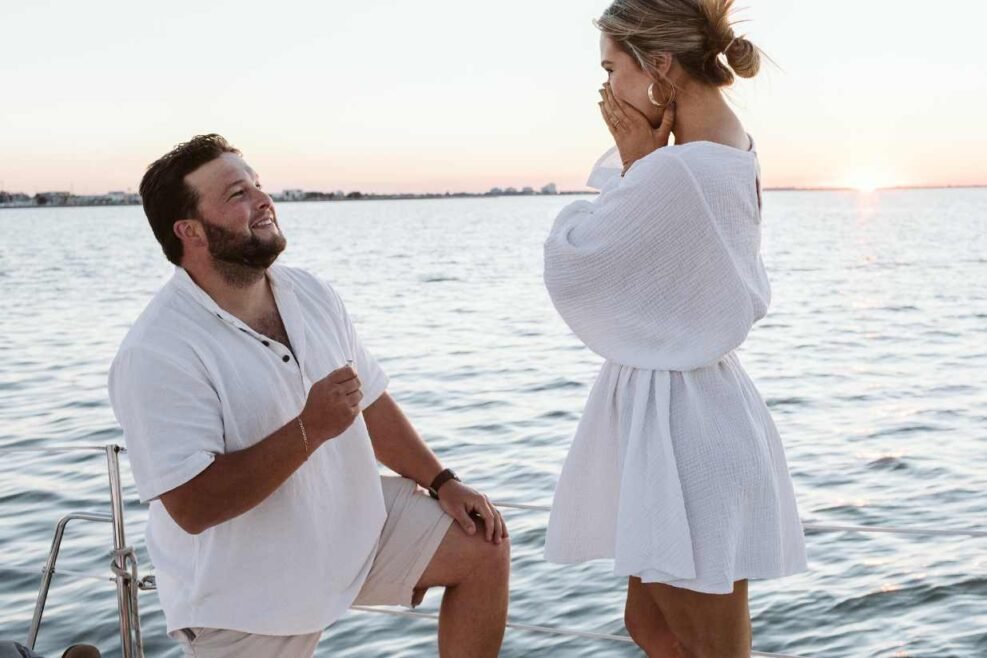 Luxury and intimacy
A level of luxury and intimacy that is difficult to match is provided by eloping on a boat. Imagine yourself on a luxurious yacht that has been exquisitely furnished and equipped. Now imagine the stunning photos captured that you will cherish for a lifetime.
A boat elopement's exclusivity guarantees that your special day will remain a private affair, shared only with your closest friends and family. You can concentrate on building meaningful relationships and having an intimate celebration of your love when there are fewer guests present. This enables you to forego the customary wedding rituals and fully savor the happiness of the occasion.
Gorgeous Locations
Eloping on a boat offers the chance to choose from a variety of breathtaking locations, which is one of its most alluring features. A boat elopement gives you the chance to discover the most romantic waterways and undiscovered treasures in the entire world, whether you've always imagined saying "I do" in front of a dramatic coastline, amidst the serene beauty of a remote island, or beneath the vibrant hues of a setting sun.
There are endless possibilities for creating a wedding experience as unique as your love story, from the crystal-clear waters of the Caribbean to the dramatic fjords of Norway. Because of the flexibility of a boat wedding, you can embark on a romantic adventure together, discovering new destinations and creating memories that will last a lifetime.
Best Kept Secret
The allure of eloping on a boat lies in the fact that it is something you and your partner can keep to yourselves. Imagine announcing to your loved ones that you are getting married on a boat, leaving them speechless at your unusual and extraordinary decision. This element of surprise makes your wedding journey more intriguing and exciting, ensuring that your special day will live on in their memories forever. Eloping in New Orleans is another best kept secret… full of romance, character and uniqueness!
Professional Help
Although organizing a boat elopement may seem difficult, the good news is that there are experts who focus on creating these special occasions. You can be guided through each step of the process by our wedding planners and boat charter businesses, ensuring that your vision is realized. They are prepared to handle the logistics, freeing you to concentrate on your relationship and the magic of the moment. This includes choosing the ideal boat and destination as well as organizing florals, photography, and all the smaller details.
Last but not least!!
You simply can't pass up the opportunity to experience a sunset boat elopement. Imagine being on the deck of a lavish boat, surrounded by the sound of the water lapping against the deck and a gentle breeze blowing in the evening. A surreal and magical atmosphere is created by the reflection of the vivid colors on the still water, setting the stage for an unforgettable ceremony. You and your partner exchange vows in front of this picturesque setting, savoring the beauty and peace of the occasion. A truly captivating experience is produced when the breathtaking sunset, the calming sounds of nature, and being on a boat in close proximity come together. Don't pass up the chance to elope on a boat in the evening and make memories that will last a lifetime.
A truly unique wedding experience that combines luxury, intimacy, adventure, and exclusivity is eloping on a boat. It gives you the freedom to veer from convention and design a day that is especially special to you. This well-kept secret ensures a romantic celebration to remember with stunning settings, opulent lodgings, and the element of surprise. Elope on a boat for the ideal combination of elegance, romance, and adventure, so if you want a wedding experience that is as exceptional as your relationship, let's do it. Check out our Sunset Lake Elopement Packages for an all inclusive boat wedding, New Orleans.
Don't forget to check out our TOP Elopement or Vow Renewal Packages HERE!
Click HERE to learn the 5 secrets to a successful (and stress-free) elopement and BONUS checklist!