Congratulations on your upcoming wedding! Planning a wedding can be an exciting yet challenging task. To help you with your preparations, here's a complete guide to marrying at Chateau Lemoyne Hotel, New Orleans.

Considering New Orleans for your ideal wedding in New Orleans? Look nowhere else! This thriving city, located in the heart of Louisiana, offers a magical setting for your special day that will make it truly unforgettable. Imagine saying "I do" in an elegant mansion filled with Southern charm, or exchanging vows in a historic courtyard decorated with blooming magnolias and sparkling fairy lights. The vibrant energy and rich cultural heritage of New Orleans make it a unique setting for your celebration. From the intoxicating sounds of jazz filling the air to the vivacious energy of Mardi Gras, New Orleans radiates an infectious joie de vivre that will add an extra dose of excitement to your wedding. So, if you're prepared to set out on a unique wedding adventure, marrying at Chateau Lemoyne Hotel New Orleans is the ideal place to fulfill your goals.
Why Chateau Lemoyne Hotel is a Perfect Place to Elope in New Orleans
Elopements have gained popularity among couples seeking an intimate and romantic wedding experience. If you're considering eloping in New Orleans, look no further than the enchanting Chateau Lemoyne Hotel, this undiscovered gem offers the perfect setting for an unforgettable elopement thanks to its historic charm, first-rate service, and picturesque location in the middle of the city.
Let's look at why the Chateau Lemoyne Hotel is the ideal setting for a small wedding.
Romantic Atmosphere
The Chateau Lemoyne Hotel exudes a romantic and intimate ambiance, making it ideal for an elopement. You'll be enchanted by the historic property's ageless elegance and charm the moment you set foot inside. The hotel's tastefully decorated rooms, peaceful courtyards, and traditional architecture make for a charming and romantic setting for your elopement ceremony.
Beautiful Ceremony Locations
The hotel offers a variety of gorgeous ceremony locations that can be customized to your needs. You can choose to have your ceremony outside in the lush greenery of the courtyard with its cascading vines and sparkling lights, or inside in one of their elegant event spaces. The staff at the Chateau Lemoyne Hotel will collaborate closely with you to design a unique, private ceremony that celebrates your love.
Packages for Customized Elopements
Customized elopement packages are available at the Chateau Lemoyne Hotel to make your wedding day stress-free and special. With these packages, you can concentrate on your love and making priceless memories because they include necessities like a ceremony location, an officiant, a bridal bouquet, and a champagne toast. To further personalize your elopement experience, extras like photography services and couple's spa treatments can be added.
Expert Advice on Wedding Planning
Even though organizing an elopement may seem easier than organizing a traditional wedding, hiring a planner guarantees that every last detail is attended to. The committed wedding staff at the Chateau Lemoyne Hotel will assist you every step of the way, from obtaining the required licenses to suggesting regional suppliers for photography, floral arrangements, and more. A seamless and stress-free elopement will be made possible by their experience and attention to detail.
Arrangements for a Private Getaway
Retire to the hotel's opulent rooms for a romantic and private getaway after exchanging vows. The well-appointed rooms and suites at the Chateau Lemoyne Hotel combine contemporary comfort with classic charm. Enjoy a romantic dinner for two, indulge in a soothing spa treatment, or just relax and celebrate your love in the comfort of your tastefully decorated room.

Go on a French Quarter exploration
The Chateau Lemoyne Hotel's prime location in the heart of the French Quarter is among the best reasons to get married there. As you set out on a romantic journey through the old streets, immerse yourselves in the vibrant culture, music, and cuisine of New Orleans. The French Quarter offers countless opportunities for making priceless memories during your elopement, from jovial jazz clubs and renowned restaurants to picturesque parks and famous landmarks.
Couples can embrace the intimacy and romance of a small wedding while reveling in the beauty and vibrancy of the French Quarter by eloping at the Chateau Lemoyne Hotel in New Orleans.
Chateau Lemoyne Hotel Wedding Services
The Chateau Lemoyne Hotel offers the most luxurious top-knotch wedding venue services. Aside from the most beautiful Luxurious Bridal Suites, other services to consider are:
Accommodation: Chateau Lemoyne Hotel offers on-site accommodation for your guests. Reserve a block of rooms for your wedding party and provide the necessary information to your guests, so they can book their accommodations accordingly.
Ceremony and Reception Venues: Chateau Lemoyne Hotel offers various spaces for both your ceremony and reception. Discuss your preferences with the hotel's event coordinator, who can guide you in selecting the perfect location based on your vision and the size of your guest list.
Catering and Menu Selection: Chateau Lemoyne Hotel can provide in-house catering services for your wedding. Schedule a tasting session to sample their menu options and discuss your preferences. Ensure you accommodate any dietary restrictions or special requests from your guests. Welcome Reception, Cocktail Hour and Brunch Options Available
Wedding Rehearsal: Schedule a wedding rehearsal at Chateau Lemoyne Hotel to practice the ceremony and familiarize everyone with the venue. This will help alleviate any last-minute stress and ensure a smooth execution of your wedding day plans.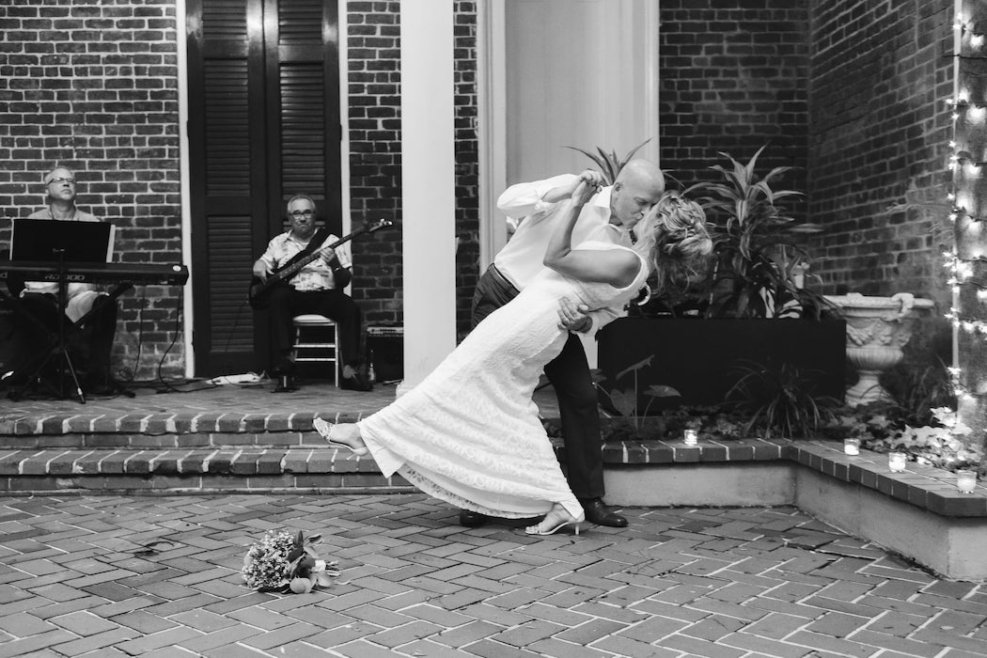 How to get Married at Chateau Lemoyne Hotel
Here are some tips to help you plan marrying at Chateau Lemoyne Hotel.

Explore the Venue: Start by familiarizing yourself with the venue's offerings and facilities. Chateau Lemoyne Hotel boasts a classic French Quarter architecture, adorned with wrought-iron balconies, lush courtyards, and beautiful indoor spaces. Take a virtual tour or arrange a visit to truly experience the venue's charm and ambiance.
Setting the Date: Contact the Chateau Lemoyne Hotel to check their availability and secure your desired wedding date. It's advisable to book well in advance to ensure availability, especially during peak wedding season.

To discuss your wedding plans, get in touch with the Chateau Lemoyne Hotel's event coordinator. They will walk you through the process, respond to your inquiries, and give you crucial details about the prices, packages, and dates that are available. Your vision will be closely matched with the capabilities of the venue through the coordinator's close collaboration with you.

Select a Wedding Package: The Chateau Lemoyne Hotel offers a variety of customizable wedding packages to meet different needs and spending limits. Their packages typically include necessities like ceremony and reception spaces, catering choices, bar services, linens, and more, whether you want a small gathering or a large celebration. Make the package fit your needs and look into any upgrades or extra services they may provide for marrying at Chateau Lemoyne Hotel.

Plan the Ceremony and Reception: Establish a close working relationship with the event coordinator to plan the ceremony and reception's specifics. The location offers a variety of indoor and outdoor spaces, allowing you to create the layout of your dreams for your wedding. The options are endless, from holding a chic reception in a ballroom to exchanging vows in a private courtyard. Together with the coordinator, make a schedule, decide on the decor and menu, and finalize other details.

Guests' Accommodations: The Chateau Lemoyne Hotel provides comfortable and stylish accommodations for you and your guests. To ensure that your loved ones can conveniently stay on-site and fully appreciate the wedding experience, ask about room block options. Your guests will have a wonderful stay thanks to the hotel's luxurious rooms and top-notch service.

Coordination with Vendors: The Chateau Lemoyne Hotel has experience collaborating with a range of vendors, such as musicians, florists, and photographers. To ensure a smooth and coordinated wedding day, they can offer recommendations or collaborate with your chosen vendors. To finalize logistics, setup times, and any special requirements, work with the venue and vendors.

Finalize Details and Enjoy Your Day: As your wedding day approaches, confirm all of the details with the event coordinator, including final guest counts, menu selections, and any special requests. You can relax and fully immerse yourself in the joy of your wedding day by putting your trust in the venue's team to execute your vision flawlessly.
How to get a marriage license
Planning the ideal day is a thrilling experience. However, it is possible to become overwhelmed by the enthusiasm and overlook the legal aspects of a marriage. You may have picked your officiant, but are you familiar with the procedures for obtaining a marriage license?
Be calm if you don't. The State of Louisiana makes it very simple to obtain a marriage license. Here is your full guide with everything you need to know about obtaining your marriage license in Louisiana.
As an elopement photographer, I am here for you. If you want a photographer who recognizes the things that are most significant and memorable to you, and who also takes excellent pictures, I'm your girl! I'm Marcia, a New Orleans-based professional elopement wedding photographer.
I specialize in creating all-inclusive, budget-friendly elopement packages for my customers, and I'm committed to giving them all top-notch support. I am available for destination weddings anywhere in the globe because I am a traveling elopement photographer. If you are interested in hiring a skilled wedding photographer in New Orleans, don't hesitate to get in touch with me.
Making the Chateau Lemoyne Hotel in the French Quarter your wedding location ensures an exceptional and unforgettable event.
Whether you envision a small-scale affair or a lavish celebration, marrying at Chateau Lemoyne Hotel offers a truly enchanted setting for your wedding day. The hotel's dedication to excellence, attention to detail, and historic charm ensure that you and your loved ones will have an unforgettable experience. Let the Chateau Lemoyne Hotel and the French Quarter serve as the ideal backdrop for your love story as you begin this new chapter of your life, creating memories that will be cherished for a lifetime.